Klatrekompaniet




Norway Haute Route



On the way up to Glitretind, the second higest mountain in Norway and highest mountain in Norway during the winter due to the snow load.


The Norwegian Haute Route equivalent! This randonee trip takes you through the best part of Jotunheimen National Park. We cross several glaciers and climb the higest peaks of Norway on our way. We sleep in mountain huts and are served three-course dinner each day. Join us in this remote randonee trip in the best part of Norway.

Klatrekompaniet is the company that guide most randonee trips through this route each year. This in combination with high client satisfaction, we can offer your group a safe Haute Route with good experiences.

Klatrekompaniet offers this trip in two variants:
---
Duration: Four days (Arrive in the eavning, three days skiing). We also offer the five days variant og Jotunheimen Haute Route.
Location: Jotunheimen.
Price: 8000 nkr per person.


Scheduled trips for "Jotunheimen Haute Route", four days.



28.03-31.03.2019

04.04-07.04.2019 (Booked)

11.04-14.04.2019 (Booked)



We set up other periodes for the the trip "Jotunheimen Haute Route" when requested from groups of 4 or more people. Send us an e-mail at post@klatrekompaniet.no if your group would like the "Jotunheimen Haute Route" a periode outside our scheduled trips.


On the way down to the last cabin, Spiterstulen.
Jotunheimen Haute Route.

The Norwegian Haute Route equivalent! This tour was first done by the famous freeride skier Stian Hagen in spring 2013, and Klatrekompaniet (eng: Climbing company) are one of the first company to offer guided tours on this route that takes you through the finest of Norwegian mountains.



Read what other clients says...



Each day brings one of the most classic peaks in Jotunheimen National Park, which also are the highest ones in Norway. This trip requires good physical condition and good skiing skills, and that there are stable snow conditions. The first day we ski from Bessheim lodge to Memurubu lodge over peak Besshø. The second day we ski from Memurubu over the peak Surtingsui to Glitterheim. The third day we try to ascent Norway's second highest mountain Mt. Glittertind to Spiterstulen lodge.

Skiing from the top of Glitretind.
Highly qualified guides
The guides from Klatrekompaniet which leads this high mountain trip is Fjellkursleder (Fjellkursleder is the highest sertification and education in norwegian high mountains). We also use IFMGA Mountain Guides which has an additional sertification as Fjellkursleder and are used to the Norwegian winter, avalanche and weather conditions. We use only the best and moust competent guides for the Houte Route in Norway. Our guides is speak english well.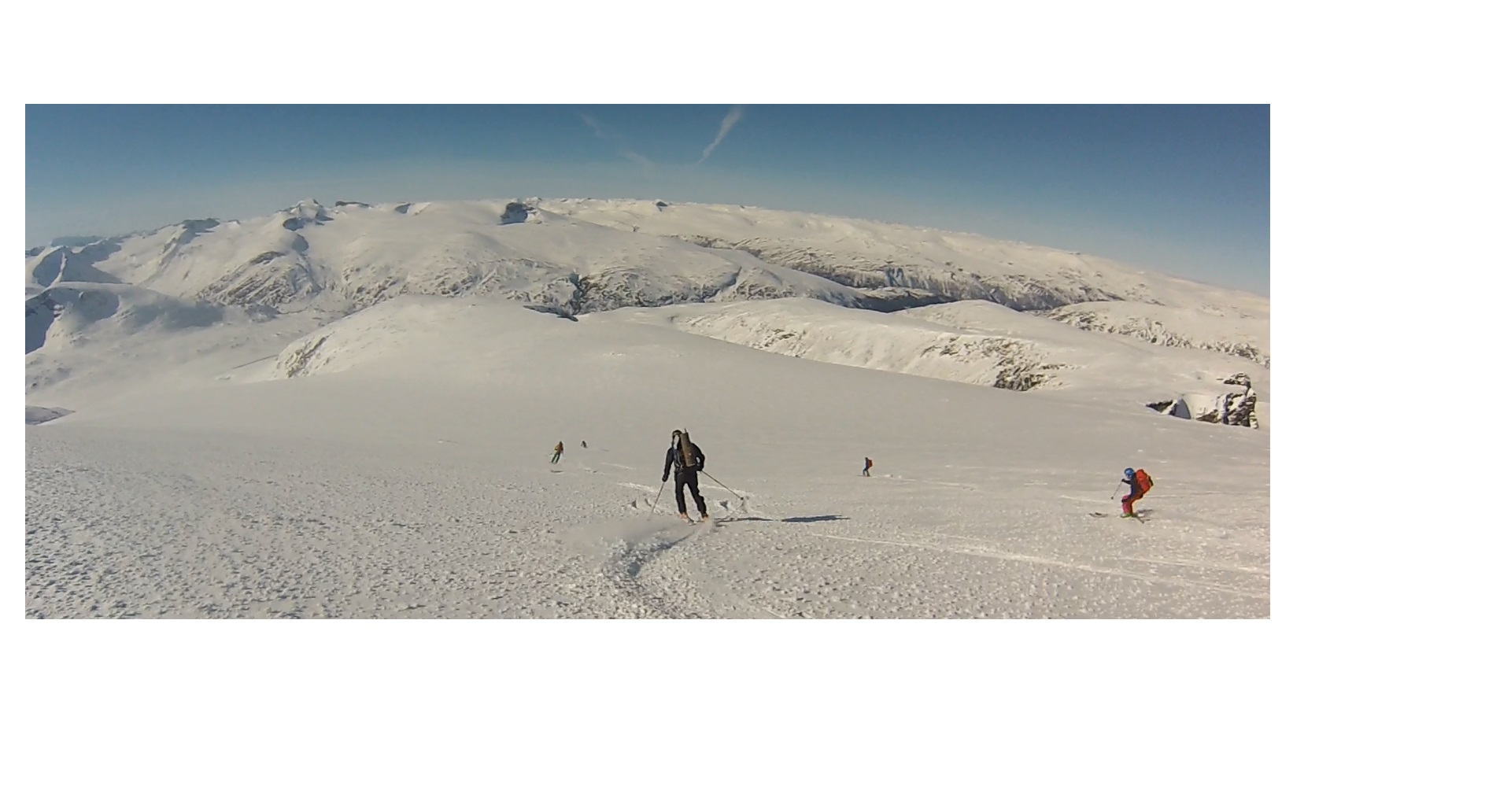 Skiing from the top of Glitretind.
This could be the adventure you seek
You must have good skiing skills (able to ski controlled downward) and good physical condition. The ski tour can be organized with varying difficulty, but some steep slopes is unavoidable. The snow conditions can be variable. We will ski on glaciers and in potentially dangerous avalanche terrain. This ski tour require up to 1700 meters ascent and up to 24 km every day. Several daily stages requires good visibility and stable snow conditions to be implemented. The alternative then is marked routes in the valleys. We therefore strongly recommend lightweight apine ski touring equipment.

Relaxing in the sun after reaching the destination hut, Spiterstulen.
More pictures from Jotunheimen Haute Route...
Equipment and clothing for the norwegian version of the Haute Route
This trip requires lightweight pack strategy! Do not bring more than what is on the list. Glacier and avalanche equipment can be rented from Klatrekompaniet if noticed in advance.
Backpack, 40 liter (must enable to attach ski and ice axes)
Randone`e or telemark skis with skins (preferably tech bindings)
Skins
Ski crampons (Important!)
Ski boots
Poles
Glacier equipment (can be borrowed by Klatrekompaniet)
Ice axe
Crampons
Harness
2 screw carabiners
1 prusik sling (6 mm)
1 120cm webbing- or ropesling
Avalance equipment (can be borrowed by Klatrekompaniet) Clothing
wind/waterproof shell
gloves / mittens / hat (wind and waterproof)
Socks (inkl. spare)
insulating underwear (wool)
insulation midlayer (wool, fleece or thin down west)
insulation jacket (down, primaloft or wool)
Other
Sunglasses and goggles
Sunblock (strong!)
Headlamp (important!)
Toothbrush etc. (inkl. toiletpaper)
Wipes (for washing hands)
Personal medicine
Sleeping liner
Earplugs
Camera
Bottle / thermos
The guide brings
Small repair kit
First aid kit
Emergency bivouac
Glacier rescue equipment
GPS, map and compass
At the cabins, there is possible to rent towels and linens for between 60,- and 100,- at each cabin.


---
Duration: Sixdays (Arrive in the eavning, five days skiing).
Location: Jotunheimen.
Price: 14000 nkr per person.


Scheduled trips for "Jotunheimen Haute Route", six days.
28.03-02.04.2019
04.04-09.04.2019 (Booked)
More pictures from Jotunheimen Haute Route...






If you need more information or want to book: Contact Klatrekompaniet by phone +47 47645000 or send an e-mail to Klatrekompaniet.

Les også våre generelle vilkår for påmelding.




Tips en venn om denne siden